GS — 828e Electric hñu ya 'befi nt'ots'i hospitalaria
Detalle ar producto
Comentarios nu'bya
GS — 828e Electric hñu ya 'befi nt'ots'i hospitalaria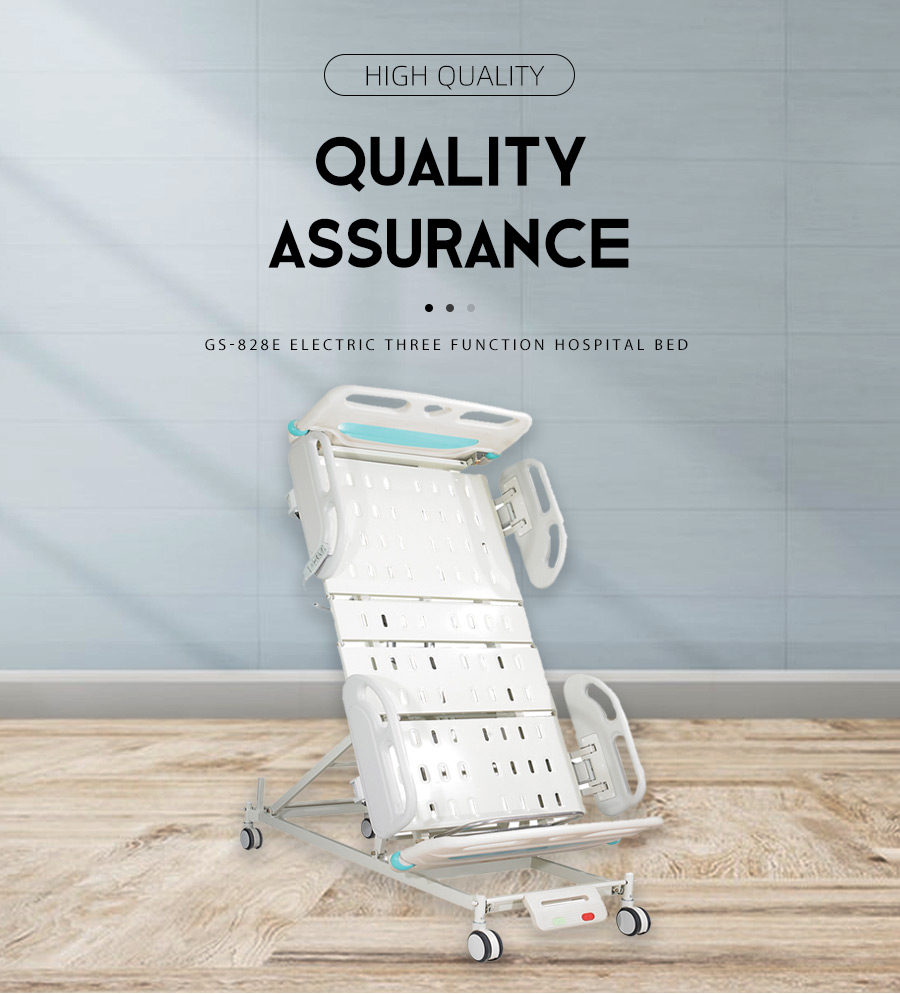 Name

Electric Three function Hospital Bed

Item No

.

GS-828e

Outside size

L2160×W1060×H430-720mm

Inside size of mattress base

L1950*W900mm

warranty

one year after shipment

Tabla yá ñä ne 'yowa

Detachable ABS Head

&

foot board

Side board

4

pcs PP side board

Marca motores

Linak /Moteck/Timotion

Ko motor
1

pcs back board motor

,1

pc leg board motor

,1

pc Hi-Lo motor

,

1pc remote ,1pc control box.

Castors

5",

individual lock system castors

,

Urine hooks

Urine hooks by steel chrome and Plastic dipping together

Approval

ISO13485

;

CE

;

ISO9001

;

FDA

Raw material

Steel and ABS

Options

Dining Table

; Colchón, Armario ho mi 'bu̲i ar nt'ots'i.

Safe working load

The quality attains national standard

.

It is equipped with electric motor which is quiet and noiseless and able to support over 250kgs

.

Back-rest lifting

0-75

°

(

±2%

)

by Remote

Knee-rest lifting

0-45

°

(

±2%

)

by Remote

Standing adjustable

0-90

°

(

±2%

)

by Remote

Head

&

foot board

1

set

Guardrails

4Pc
ruedas
4Pc

Motors

3Pc

Remote

1PC

Urine hooks

4Pc
I.v..

drip holes

4Pc
I.v..

pole

1PC

1. Professional manfacturer of manual and electric care bed and trolley 20years with advanced facilities.
2. Factory price with best quality, we have 10years exports experience, best quality and best service
3. High-efficient After-sale service.
4. Fast service and on-time delivery, if your have no forwarder, we can help arrange shipment, booking ship
5. Offer OEM service. if you give me the size we can make it same.
6. If your have time come to factory check the good when the shipment, we can help your and if your want
7. Suitable packages to ensure goods safety and save container space.
8. Advanced bed parts molding machines, advanced welding technology and advanced antirust treatment techniques.
9. We produce most bed parts and control quality at every procedure by ourselves








'Befi posventa:
● Respetamos ár feed vuelta 'mefa xta ga hä ya bienes.
● Proporcionamos 12-24 ya zänä garantía 'mefa xta ndi zo̲ho̲ ar mercancía.
● Prometemos ga̲tho ya piezas ar repuesto da 'mui jar njapu'befi ar hño nzaki.
● di quejamos ja 'nar plazo 48 ya ora.
Ar pa entrega puntual:
● Ponemos ár pedido ja ma apretado pa producción, xi hño ár pa entrega puntual.
● Producción / nt'uni mfädi inspección Ante ár pedido embalado.
● Aviso envío yá seguro ya gí ngut'ä ngut'ä ngu ár pedido ar envía.
Ventas profesionales:
● Valoramos ya hño nthoki ne ga envían, garantizar 'nar oferta competitiva ngut'a.
● Cooperamos ko ar cliente pa licitar ofertas. Proporcionar nga̲tho ar documento mahyoni.
● dí 'nar equipo ventas, ko nga̲tho ar apoyo técnico ar equipo ingenieros.

Temu̲ da nugu̲ju̲?
1. Jaki ar mäte, confirme ya numero modelo ne ya cantidades nä'ä gi ta̲i ma jä'i ventas wa ga pe̲hni 'nar correo electrónico
2. Bí enviaremos 'nar factura Proforma mbi recibamos ár pedido. Ne nu'bu̲ dí necesitas,bí ayudaremos bí calcular ar mäs xi hño 'be̲fi flete ya mensajería
3. 'Mefa xta organizar ar njut'i ne ga pe̲hni ár copia bancaria, Ma ga ga japi ár pedido ar producción
4. Nu'bu̲ ya merkansiya 'yo terminadas, enviaremos ar mercancía ne bí informaremos ar hñuts'i ya seguimiento
Ungumfädi yá 'ma
Nkohi comerciales: Fob, Cif, Ngäts'i ar njut'i exw: T/T,
'Mui nthe ya njut'i: 30% 'met'o ar njwati, 70% saldo 'bu̲ 'be̲tho ar entrega
Plazo entrega: 25 pa hábiles 'mefa xta confirmar ar pedido
embalaje: Ya cartón me
transporte: 'bu̲ däzabi, 'bu̲ ndähi


ar nt'a̲: ¿Ndi proporcionar ya muestras?
respuesta: Hä, Majwäni. Damos ar bienvenida ja ya muestra pa probar ne comprobar ar hño
ar nt'a̲: ¿Zits'uwi FOB wa ya CIF?
respuesta: Hä, Fob gi 'bu̲i ma nä'ä 1 * 20 pies ya däzabi, CIF pa 'na qty .
ar nt'a̲: ¿Tange ár plazo entrega?
respuesta: normalmente 25 pa 'me̲fa ar njwati
ar nt'a̲: ¿Zits'uwi OEM ?
respuesta: Hä, Hontho OEM disponible, Jaki ar mäte, proporcione ár especificación ja̲t'i ne detalles
ar nt'a̲: ¿Hä'mu̲ comienza ár empresa ma exportar?
respuesta: Di exportado ya muebles ar hospital ndezu̲ 2008
ar nt'a̲: pe ga japi ma logotipo jar jar nt'ots'i?
respuesta: Jaki ar mäte, proporcione ar diseño terminado ár logotipo, bí convertiremos jar pegatinas
Nu'bu̲ Nu'i gí pe̲ts'i 'ra ya hñäki dige GS — 828e Electric hñu ya 'befi nt'ots'i hospitalaria, wa gi ga pädi mäs detalles ma 'ra ya nt'ots'i eléctrica,nt'ots'i manual,Nt'ots'i médica ortopédica ,Colchón,tabla ja ya,etc. Hogu̲ntso̲ho̲ ma ga japi ar jar contacto ko ngekihe!
Esperando ár hño nthoki.